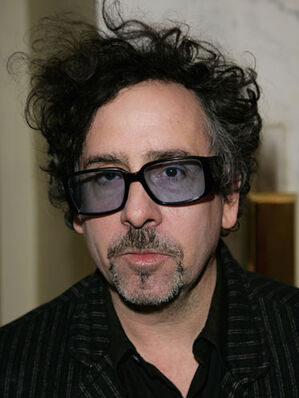 Tim Burton (born August 24, 1958) is an American film director who specializes in dark and quirky-themed films such as Beetlegeuse, Ed Wood, Edward Scissorhands and The Nightmare Before Christmas, but has also produced blockbusters including Batman, Batman Returns, Sleepy Hollow, Planet of the Apes, and Charlie and the Chocolate Factory. He frequently works with close friends Johnny Depp, musician Danny Elfman and life partner Helena Bonham Carter. Burton's film Sweeney Todd: The Demon Barber of Fleet Street won the Golden Globe Award for Best Motion Picture - Musical or Comedy. His adaptation of Alice in Wonderland was released on March 3, 2010. His next film will be an adaptation of the gothic soap opera Dark Shadows, and after that, he will work on an animated adaptation of his short film Frankenweenie.
Ad blocker interference detected!
Wikia is a free-to-use site that makes money from advertising. We have a modified experience for viewers using ad blockers

Wikia is not accessible if you've made further modifications. Remove the custom ad blocker rule(s) and the page will load as expected.