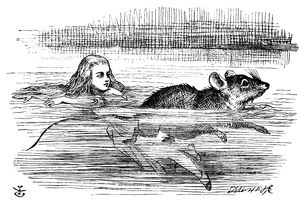 the Mouse is a character in the book Alice's Adventures in Wonderland.
Description
Alice's Adventures in Wonderland
The Mouse first appears swimming in the pool of tears along with other animals and birds as it passes by Alice. On the shore, it tells everyone including the Dodo his sad and long tale. After Alice mistakes it for his tail, he gets upset and runs off.
Other Appearances
He also appears in the 1999 film as he turns into a human after he is on the stairs. He shows Alice in a room full of books a way to get dry by a Caucus-Race, so calls to his friends the Dodo, the Duck, the Lory, and the Eaglet to join in. After the caucus race, he goes home for a cup of hot chocolate.
In the miniseries Alice, he appears as the Ratcatcher.
In the Manga "Pandora Hearts", the character of Gilbert, who is afraid of cats and easy to anger, seems to be based on the mouse.