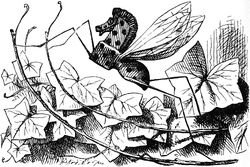 The Rocking-Horse-Fly is an insect from Through the Looking-Glass, and What Alice Found There. Its name and form is a pun on the words 'rocking-horse' and 'horsefly'. Its body is that of a horse with black dots and wings on its back, while its legs are connected to rockers. It is made entirely of wood and rocks about. It lives on sap and sawdust.
In the Manga "Pandora Hearts", which is basically saturated with references to the books, there is a Chain that bears a resemblance to the Rocking-Horse Fly.
Ad blocker interference detected!
Wikia is a free-to-use site that makes money from advertising. We have a modified experience for viewers using ad blockers

Wikia is not accessible if you've made further modifications. Remove the custom ad blocker rule(s) and the page will load as expected.