Rocking-Horse-Fly
Comments

0
254pages on
this wiki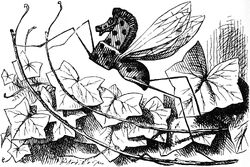 The Rocking-Horse-Fly is an insect from Through the Looking-Glass, and What Alice Found There. Its name and form is a pun on the words 'rocking-horse' and 'horsefly'. Its body is that of a horse with black dots and wings on its back, while its legs are connected to rockers. It is made entirely of wood and rocks about. It lives on sap and sawdust.
In the 2010 adaption of Alice in Wonderland, it has a white-and-black polka dotted body. It has hair on its neck and tail. It was seen fending itself against a Snap-Dragonfly and another was rocking on a mushroom in the mushroom garden.

The Rocking-Horse-Fly as it appears in concept art.

Added by

OhJay
In the Manga "Pandora Hearts", which is basically saturated with references to the books, there is a Chain that bears a resemblance to the Rocking-Horse Fly.