Marmoreal is the beautiful pearl-white palace and home of Mirana, The White Queen. The palace is very attributed to it's inhabitants which are very white in color.
Inhabitants
Marmoreal's inhabitants are
The White Queen
, the
Bandersnatch
(after befriending
Alice
),
Absolem
, the Tweedles (
Tweedledee and Tweedledum
),
The Dormouse
,
The March Hare
,
Alice
(temporarily),
Bayard
and his family and others.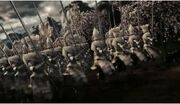 There were also
The White Queen
's knights that were designed like chess pieces.
Appearances
Gallery
</center>