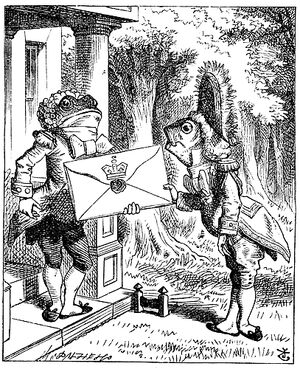 In Lewis Carroll's novel Alice's Adventures in Wonderland, the Fish-Footman delivers a croquet invitation from the Queen of Hearts to the Duchess's the Frog-Footman, which he then delivers to the Duchess. In Japan, he is called the Fish Orderly or the Fishface Servant.
In
Tim Burton
's 2010 remake of
Alice in Wonderland
,
the Red Queen
has a Fish-Footman working in her castle as a butler. Both the Frog-Footmen and the Fish-Footman have been shown in a featurette for
Tim Burton
's adaptation of
Alice in Wonderland
, which premieres March 5, 2010.
Concept art
Edit
Screenshots
Edit
Ad blocker interference detected!
Wikia is a free-to-use site that makes money from advertising. We have a modified experience for viewers using ad blockers

Wikia is not accessible if you've made further modifications. Remove the custom ad blocker rule(s) and the page will load as expected.