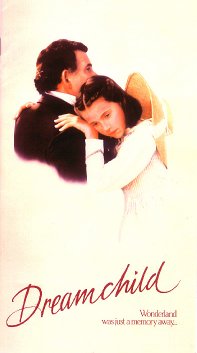 ❖ Information ❖
Dreamchild is a 1985 film, inspired by the later life of Alice Liddell, it was written by Dennis Potter and based on his 1965 play, Alice. In the 1930s Alice Liddell is now an eldery widow in her 80s who prefers to be called Mrs. Hargraves, who accompanied by a young girl named Lucy travels to the United States to receive an honorary degree at Columbia University during a celebration of the centenary of Lewis Carroll's . During her trip to the US, she has flashbacks to her childhood and memories of Carroll and fantasies where she meets his famous characters.
Ad blocker interference detected!
Wikia is a free-to-use site that makes money from advertising. We have a modified experience for viewers using ad blockers

Wikia is not accessible if you've made further modifications. Remove the custom ad blocker rule(s) and the page will load as expected.