Home
Talk

12
265pages on
this wiki
❖ ❖ ❖
❖

❖
❖ ❖ ❖
❖ ❖ ❖
❖

❖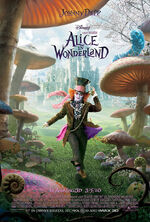 "Alice in Wonderland" is a film adaptation of Alice's Adventures in Wonderland by Tim Burton that was released on March 5, 2010, and was released on DVD and Blu-ray on June 1, 2010. The story begins with Charles Kingsleigh trying to sell his project to some men. His talk is interrupted by 6-year-old Alice who had that nightmare again. She tells her father she saw many strange creatures including a dodo bird, a white rabbit wearing a waistcoat, a smiling cat, and a blue caterpillar. Alice wonders if she has gone mad, which Charles responds she is. He tells her that all the best people are mad. Thirteen years later, after her father's death, Alice attends a party with her mother at the Victorian State. Read more...
❖ ❖ ❖
❖ ❖ ❖
❖

❖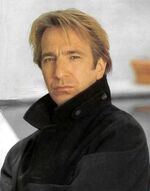 Alan Sidney Patrick Rickman is a British actor who voices The Caterpillar in Tim Burton's 2010 remake of Alice in Wonderland. Rickman's first major movie role was Hans Gruber in Die Hard (1988); from there he went on to play The Sheriff of Nottingham in Robin Hood: Prince of Thieves, Severus Snape in all of the Harry Potter films to date, and Judge Turpin in Sweeney Todd. Read more...
❖ ❖ ❖
❖

❖
"Alice's Theme" is a song written by Danny Elfman. It is the first song on the film scoreand an iTunes bonus track on the album Almost Alice, which features songs ispired by the 2010 film Alice in Wonderland. "Alice's Theme" is also the only song from "Almost Alice" that is used in the film. Read more...

What should be the next Featured song?
Who is your least favorite character in Alice in Wonderland?
❖ ❖ ❖
❖

❖
Create blog post
Blogs
Tim Burton's 2010 hit Alice in wonderland will launch a sequal! James Bobin directed follow-up to Tim Burton's 2010 "Alice in Wonderland" is starting principal photography.  The film promises to be "…

Read more >

This wiki is totally dead. I suspected it, and it is now confirmed. Once I get #1 on the wiki, yes I am a achievement-w****, I am probably barely going to get on. If this wiki isn't dead, please comm…

Read more >
See more >
❖ ❖ ❖
❖
❖
Also visit our affiliated Wonderland Wikis!

❖

❖

Hi <insert name here>! Have you voted in The Chessboard this week?