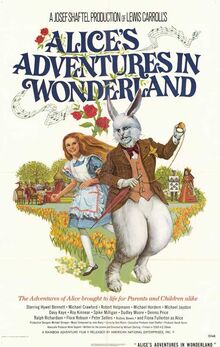 Alice's Adventures in Wonderland is a 1972 British musical film based on the Lewis Carroll novel of the same name and its sequel, Through the Looking-Glass, directed by Australian television producer-director William Sterling. It had a distinguished ensemble cast with a musical score by John Barry and lyrics, Don Black.
In 1973, the film won the BAFTA Film Award at the BAFTA Awards Ceremony for Best Cinematography, won by Geoffrey Unsworth, and Best Costume Design, won by Anthony Mendleson. Stuart Freeborn created make-up for the film based closely on the original John Tenniel drawings in the first edition of the novel.
Fiona Fullerton ... Alice
Michael Jayston ... Dodgson
Hywel Bennett ... Duckworth
Michael Crawford ... White Rabbit
Davy Kaye ... Mouse
William Ellis ... Dodo
Freddie Earlle ... Guinea Pig Pat
Mike Elles ... Guinea Pig Two
Julian Chagrin ... Bill the Lizard
Ralph Richardson ... Caterpillar
Freddie Cox ... Tweedledum
Frank Cox ... Tweedledee
Peter O'Farrell ... Fish Footman
Ian Trigger ... Frog Footman
Peter Bull ... Duchess
Patsy Rowlands ... Cook
Roy Kinnear ... Cheshire Cat
Robert Helpmann ... Mad Hatter
Peter Sellers ... March Hare
Dudley Moore ... Dormouse
Dennis Waterman ... 2 of Spades
Ray Brooks ... 5 of Spades
Richard Warwick ... 7 of Spades
Dennis Price ... King of Hearts
Flora Robson ... Queen of Hearts
Rodney Bewes ... Knave of Hearts
Spike Milligan ... Gryphon
Michael Hordern ... Mock Turtle
Victoria Shallard ... Lorina
Pippa Vickers ... Edith
Ray Edwards ... Eagle
Stanley Bates ... Monkey
Melita Manger ... Squirrel
Angela Morgan ... Lory
June Kidd ... Magpie
Michael Reardon ... Frog
Brian Tripping ... Duck
Write the second section of your page here.
Ad blocker interference detected!
Wikia is a free-to-use site that makes money from advertising. We have a modified experience for viewers using ad blockers

Wikia is not accessible if you've made further modifications. Remove the custom ad blocker rule(s) and the page will load as expected.